1962 Pontiac Catalina Super Duty 421
The engine most identified with Pontiac's proud Super Duty label was the 421-cid V-8. It was an incredibly powerful muscle car engine -- the 1962 Pontiac Catalina Super Duty 421 was proof of that.

Hand-built in a special factory tool room, the first Super Duty 421s debuted late in 1961 as race-only engines. Pontiac was vague on their output, but estimates ranged from 373 to 405 bhp. These were the largest-displacement mills offered at the time, and they helped spark Detroit's cubic-inch war.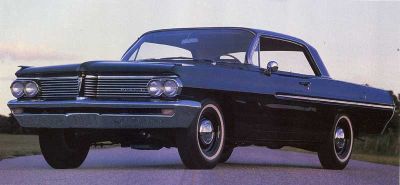 Pontiac built the Catalina Super Duty 421 for the track
but had to sell this muscle car in showrooms to qualify for competition..
NHRA rules changes for '62 required engines and body parts for the stock classes to be production pieces. This forced the 421 onto the official equipment sheet as an expensive, limited-run option. Fewer than 180 were built for '62, its peak production year. Most went into Catalinas, though 16 or so were installed in Pontiac's new personal-luxury coupe, the Grand Prix.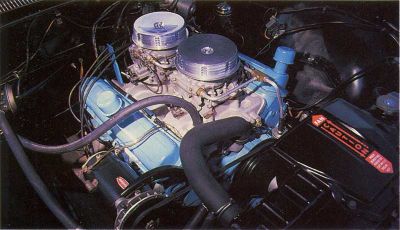 Street versions of the Super Duty had twin carburetors.
The '62Super Duty 421 was officially rated at 405 bhp, but real output was closer to 460. Though street-legal, these again were race-ready engines, with four-bolt mains, forged rods and crank, solid lifters, and NASCAR heads. Stock-car-racing versions used a single four-barrel, but street/strip Super Duty 421s had twin Carter 500-cfm four-barrels and an aluminum intake manifold.
Free-flow cast-iron headers were fitted with easily removable exhaust dumps. Only three- and four-speed manuals were offered; Pontiac's automatic wasn't strong enough.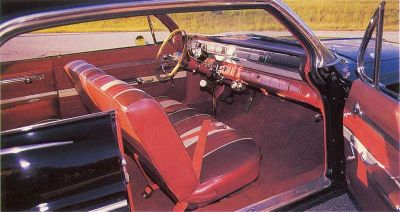 The Super Duty's tri-tone upholstery looked great, but it was
incongruous in a car so competition-oriented.
Reinforcing the division's hard-nosed performance attitude were a host of Super Duty options, including aluminum front-end body clips and a weight-cutting modified frame (the famous drilled "Swiss Cheese" frames wouldn't come until '63). These saved about 110 pounds. To shave another 40 pounds, the factory would fit aluminum exhaust manifolds. They were intended only for quarter-mile competition; Pontiac warned that subjected to more heat, the headers would melt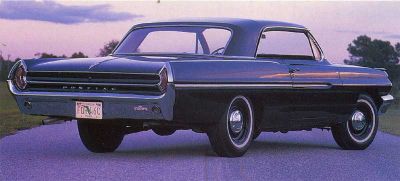 A lot of drivers saw the rear end of a Super Duty --
it could hit 100 mph in a quarter mile.
Super Duty 421 Catalinas were fearsome muscle cars on the street, and could dip into the 13s at more than 100 mph in the quarter -- superior numbers for a regular-production car of the day.
The 1962 Pontiac Catalina
Super Duty 421
Specifications
Wheelbase, inches: 120.0
Weight, lbs: 3,575
Number built: 172
Base price: $5,100

Standard Engine
Type: ohv V-8
Displacement, cid: 421
Fuel system: 2 x 4bbl.
Compression ratio: 11.0:1
Horsepower@ rpm: 405 @ 5600
Torque @ rpm: 425 @ 4400

Representative Performance
0-60 mph, sec: 5.4
1/4 mile, sec. @ mph: 13.9 @ 107.0