Pontiac Police Cars And Taxis - On The Beat & On The Street
Just What Went Into Pontiac's Police Cars, Taxis, and Professional Cars?
Have you ever noticed that you never seem to see legitimate Pontiac police cars or taxis at car shows? This, despite the fact that these vehicle packages have a long history with Pontiac. Sure, we do sometimes see Pontiac professional car packages (ambulances, hearses, and so on), although rarely in the as-built-by-Pontiac condition. Given their contribution to society and relative scarcity, we are going to briefly discuss the details of a few of their packages and share some stories.
First, let's examine the police cars. There is some evidence these may go back to the '30s. More evidence exists of Pontiac police cars from the late '40s and early '50s. Art included with this article shows the '76 Catalina and LeMans Patrol Cars and the '77 total Pontiac Police Option Specifications among others. We are going to focus on what may be the best of all Pontiac police cars-the '77 LeMans ("A" car).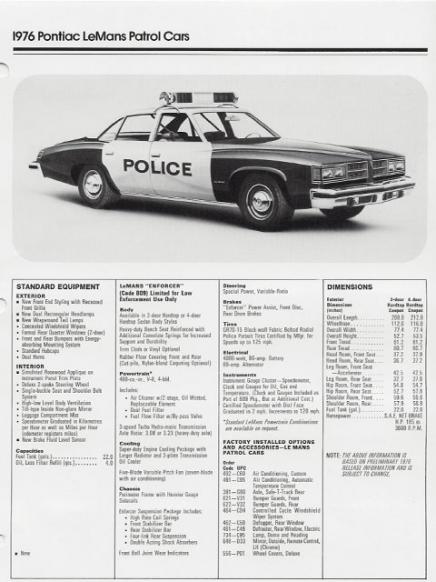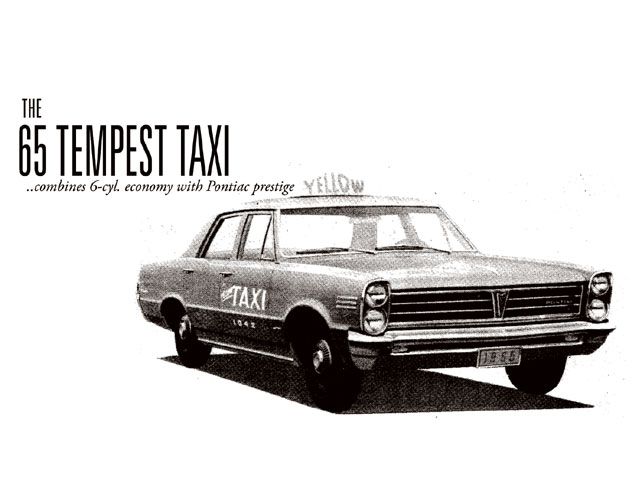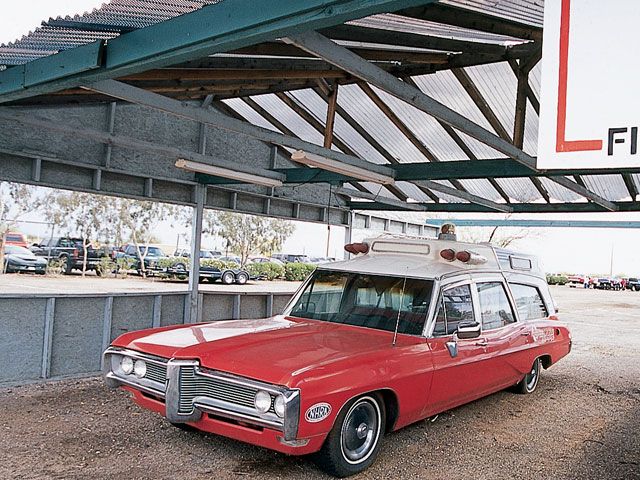 You used to see many repainted and used in chase scenes on TV, and let's not forget their co-starring role in Smokey and the Bandit. It's a little known fact that the police package for these cars was available on the two-doors as well as the four-doors.
What culminates in the '77 LeMans Freeway Enforcer package appears to begin in the '75 model. Working with the California Police agencies that actually performance-tested police packages, Pontiac Engineering set out to develop an outstanding vehicle. Some of the existing heavy-duty parts and options were immediately usable. For example, appropriate cooling packages, heavy-duty seats, and rubber floor coverings already existed. On the other hand, handling and braking revisions were necessary. A look at the '77 Freeway Enforcer Police Option Specifications shows some of the additions, such as a LoGear Blockout, were available for the automatic transmissions. This was to help prevent over-revving the engine. New 11-inch rear brake drums were a specific outgrowth of the police testing program. The steering gear was a special high-effort addition, and a 1-inch rear stabilizer bar is specific to these cars. For some unknown reason, the limited-slip axle was not recommended with this package. (When you look at this early release chart, the 301 is called a 302).
My son, who has a '77 LeMans Sport Coupe, and I found one of these cars in a local salvage yard some time ago. We liberated the rear bar for his car; he couldn't believe the difference it made in the handling (it originally had no rear bar, although it does have the Radial Tuned Suspension). This bar can be used on '73-'77 A cars. Mostly as collectible items, I also took home the optional front domelight (basically a simple round light with a plain lens) and the certified speedometer only used with the police car option.
These cars were so good, Pontiac made a video to promote them. It covers many of the '77 Pontiac police models-even the Ventura had a package. It includes footage of the California testing. Also seen is a two-door undercover LeMans. As part of the hype, it shows a huge quantity of blue and white cars that had been ordered by the NYPD. Notice that I didn't say sold to the NYPD.
Therein lies a dark tale. Someone in Sales decided that since these were for city use, they didn't need the police option. Perhaps this helped the bid price. Most were six-cylinders, although some for supervisors supposedly had V-8s. Well, New York City has an acceptance test, and it was soon discovered why heavy-duty wheels were specified for police use. Since the cars didn't pass the testing, NYC refused to accept them. Many had already been built, so these four-door blue-and-white beauties were parked all over the company property in Pontiac, Michigan, including the Product Engineering Development car parking lot. Pontiac personnel were dispatched to New York to observe the testing and resolve the issue. Resolution was obtained by partially retrofitting the police car option package onto the cars. I bet the financial results were not pretty.
Sometime after 1977, GM decided it didn't make financial sense to develop multiple brands of police cars. As a result, Chevrolet was charged with becoming the sole police-car division. I know Buick and Oldsmobile police cars existed at the same time as the Pontiacs, but I know little about what their specific details were.
Pontiac didn't just build police cars however. It also produced taxis. Pontiac factory taxi packages exist as far back as the '30s. (This is separate from the stretched '32 Pontiac bodies made by GMC into '33 General Motors cabs).
Let's focus on a taxi package from the '60s. The '65 Tempest Taxi Option was available on the base four-door sedan only. Group 098 was the taxi package. It included silver-vinyl trim with gray-vinyl floormats. You could specify the standard cloth trim. I believe I have seen at least a sample of the silver taxi-only vinyl trim. My memory is that it was a thick, heavy-duty vinyl. The taxi provision also included a heavy-duty (HD) front foam seat-cushion pad, a roof-sign wiring harness, and rear doorjamb switches for the domelight. It had a HD radiator, HD 7-blade fan, and heavy-load springs and shocks (these are different from the ride and handling package many of our cars have). Synchromesh cars had a HD clutch, and with the six-cylinder, 140-gross-horsepower engine, a 3.23 axle. Automatic six-cylinder taxis had a 2.93 axle. Separate HD options included a 55-amp Delcotron alternator and 61-amp battery combined (this was standard with air conditioning). HD front and rear seat springs with custom foam pads were a separate option. Size 7.35x14 tires were also optional; 6.95x14s were standard.
This gives you a brief overview of the types of things done to create a true taxi package versus production cars that were used as taxis. Harold Lepisto in Pontiac Engineering worked on police, taxi, and professional cars for quite a while. He sometimes supplied the city of Pontiac with police-fleet test cars. Harold also often arranged for experimental engineering test parts to be put on local police fleets for feedback (as well as getting production-oriented feedback).
At one point, we received a report that taxis in San Diego were melting taillamp lenses. I believe they were using '75, '76, or '77 Ventura-based four-doors at the time. The engineer sent to find out why soon discovered what was up. Drivers would wait for fares on the hills with the cars in gear and their foot on the brake. Sometimes they waited so long, the brake-bulb heat-melted the lenses. I offer this as one example of the unusual duty cycles we discovered in taxi and police fleets.
Speaking of unusual duty cycles, let's take a quick look at professional cars. Pontiac also has a long history here. There were many outside converters. Some used production sedan deliveries. Some also stretched the same vehicles. Others did much more involved conversions, including building their own bodies. Let's look at this situation, using 1969 as an example. Pontiac provided what was called a chassis-cowl, a running vehicle with a full floorpan. It had a box for a driver's seat. Production parts desired by the converters were shipped with the car. Other than front sheetmetal, the car had no body. However, it had the correct suspension parts (springs, and so on) for the final body weight, so it sat high. Depending on the final roof configuration (low or high), the vehicle might have the standard windshield frame and A pillars (low roof) or no windshield frame. In the latter case, it appears a Cadillac high-roof windshield frame and A pillars from its professional cars were ultimately used to build a high-roof Pontiac.
Interestingly, I have seen a number of '58 Pontiac hearses with Tri-Power. It was a recession year for the country. I suspect that the outside companies ordered vehicles from Pontiac expecting to make them into ambulances, and with the economic downturn, orders probably didn't come in. As a result, the chassis were ultimately made into hearses.
On a sad yet proud note for Pontiac, President Kennedy traveled on part of his last journey in a U.S. Navy '63 Pontiac ambulance.
Finding any of these special Pontiacs today isn't easy. Taxi and police cars undoubtedly lived a hard life, sometimes several hard lives. The professional cars, while relatively few in number, are more likely to be found. Even some of these had hard lives, having been used by builders, painters, and more after their initial vocation. With regard to the professional cars, I strongly suspect none exist as original chassis-cowl setups as shipped by Pontiac.
Armed with this new insight to this unusual part of Pontiac history, complete with parts and features only used on these vehicles, who knows what you might stumble across out there?

From the September, 2006 issue of High Performance Pontiac
By John M. Sawruk, P.E.