Pontiac Nascar Catalina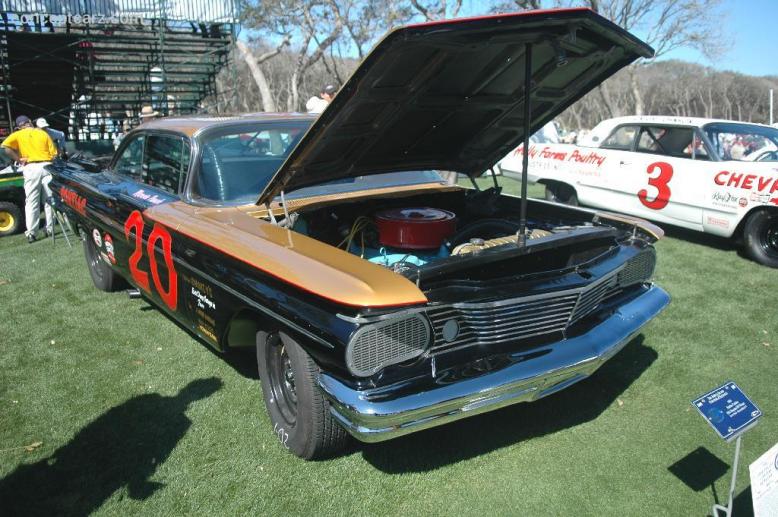 1960 Pontiac Catalina NASCAR nyheter, bilder og informasjon fra før og etter Smokey Yunick's død i 2001.
Marvin Panch og Smokey Yunick hadde begynt for alvor diskusjoner i forhold til hvem hva hvor og mulig restaurering av Smokey Yunick forberedelser til  at med 1960 Pontiac Catalina Marvin kjørte til seier i 1961 Daytona 500. Etter oppdage at den opprinnelige Pontiac ble ødelagt av en lokal Salvage Jard, bestemte Marvin å gjøre det nest beste - en gammel Pontiac og rekonstruere hans vinnende regissør ved hjelp av veiledning og original racing utstyr fra Smokey og hans garasje.

Den rekonstruerte racecar er basert på en overlevende 1960 2-dørs hardtop Pontiac Catalina opprinnelig bygd i Pontiac, Michigan homeplant. Robert Connell av RC Restorations i Kentucky utført et flertall av body restaureringen sammen med assistanse fra Doug Bendle av sekstitallet Owners Society i Tennessee. Andre medlemmer Doug gruppe gis hjelp etter behov. For å sikre teknisk nøyaktighet, brukes restaurering både dokumentasjon og fotografier av den originale bilen samt veiledning fra Marvin Panch. Når body restaureringen var ferdig i 2002 ble bilen sendt til Marvin residens i Daytona Beach for installasjon av den opprinnelige modellen og utstyr (motor, chassis deler, støtdempere, felger, eksos, spindler, etc) fra Smokey Yunick gamle garasjen. Marvin, med hjelp av Karl Trapper (en av de opprinnelige rase mekanikk) og Karl sønn utført det meste av "rase prep arbeid sammen med diverse sveise levert av Jack Andrus.

The only difference between the original Daytona winning racecar and the one on display today is the addition of a 'In Memory of Smokey Yunick' memorial hand painted o the rear deck lid by Buz McKim as a tribute tot he late Smokey Yunick.
The reconstructed racecar was unveiled to the public at Daytona USA on January 1, 2003. "Bildet over"
In the late 1950's, Pontiac introduced the Catalina. Due to its sporty appearance, powerful engine offerings, and affordable price, the vehicle was an instant success for the Pontiac Motors Division. When introduced, the name 'Catalina' meant it was a hardtop body style manufactured by Pontiac. In 1959 the name 'Catalina' became its own separate model and had its own line-up.

The Pontiac Catalina was a lightweight, fullsize vehicle outfitted with powerful engines offered in coupe and convertible form. Throughout its production lifespan, the mechanics and aesthetics varied. In the early 1960's the base engine was a 2-barrel 389 cubic-inch eight-cylinder engine that produced nearly 270 horsepower. The four-barrel version raised the rating to 333 horsepower while the three two-barrel version produced almost 350 horsepower. The Super Duty 'SD' 389 cubic-inch engine raised the performance to over 360 horsepower. With a Borg Warner four-speed or Hurst three-speed manual gearbox, the Pontiac Catalina was a serious machine. Depending on the configuration the Catalina was capable of going from zero-to-sixty in around eight seconds with the quarter-mile run accomplished in just over 15 seconds.

As early as 1961, Pontiac was offering a 421 cubic-inch engine intended for drag-strip performance runs. In 1962, to comply with NHRA rules, Pontiac made the Super Duty 421 available on the Catalina, albeit at a hefty price. Less than 180 examples were produced with the 421 option in 1962. Even with over 400 horsepower and heavy modifications to the engine and suspension, the Catalina was still a street-legal machine. Only the manual transaxles were offered since the automatic versions were incapable of handling the excessive power. With the 421 engine, the car could race from zero-to-sixty in around 5.2 seconds with a quarter mile time in the mid 13 seconds.

The styling the Catalina was updated for 1963 the most notable change was the stacked headlights. The base engine was the 389 V8 producing nearly 290 horsepower. A High Output 421 cubic-inch engine complete with triple Rochester two-barrel carburetors producing 370 horsepower joined the engine line-up. A limited production run of Catalina's were offered in 'Super Stock Lightweight' trim which featured aluminum used throughout the chassis, bumpers, and body. The vehicle had a 'Swiss-cheese' frame which menat holes had been drilled into the chassis rails, thus eliminating weight but also weaking the structure. This was not the first time this technique had been used. The 1928 Mercedes SSK, also referred to the 'Might Mercedes', employed the same technique in an attempt to stay competitive against the new Alfa Romeo models.

The Super Stock Catalina's weighed nearly 300 pounds less than a regular Catalina which resulted in a quarter-mile time of around 12 seconds. The Super Stock was only offered in 1963.

The restyling continued in 1964 with a 2+2 bodystyle joining the line-up. The purpose was to continue to offer a sporty, lightweight option on the Catalina model. With nearly 8000 examples produced in 1964, it was not a tremendous success when compared with the nearly 260,000 Catalina's produced, but it did give performance enthusiasts a viable performance option. For 1965 the chassis was lowered which helped give the Catalina a better center of gravity. The body was restyled which gave the Catalina an even sportier appearance. A Turbo Hydra-matic automatic transmission was introduced, replacing the Hydra-matic option.

Throughout the 1960's the Catalina continued its reputation as a performance car and a favorite among sports enthusiasts. The trend continued through the 1970's but its decline in sales was a result of Pontiac's higher costing, luxury automobile, the Bonneville. Due to the increasing government regulations and safety concerns of the early 1970's, the engines were detuned and the muscle car era of the 1960's came to a close. An oil embargo sent the public racing for fuel-efficient vehicles. These were a few of the other reasons for the decline in interest in the Catalina.

1981 was the final year for the Pontiac Catalina, a name that began in the early 1950's. The 1960's was by far its most illustrious year with hundred's of thousands of examples being produced each year throughout most of that era. The aftermarket parts were easily available, offered by the dealer, and greatly improved the performance.
The vehicle of choice for full-size performance aficionados, the Pontiac Catalina was the least expensive and the lightest of Pontiac's full-size coupes and convertibles. Strongly establishing Pontiac's performance image, the Catalina featured light-weight body panels, Super Duty engines and other innovative modifications.

Part of Pontiac's full-sized automobile line, the Catalina name was originally used specifically to denote hardtop body styles that first appeared in the 1950 Chieftain Eight and DeLuxe Eight lines. Catalina became a separate model in 1959 as the 'entry-level' full-size Pontiac. At the time, the 1950 Chieftain Series 25/27 hardtop was Pontiac's top of the line model, and was initially dubbed 'hard-top convertibles'. Pillar-less designs in the door and window areas, these vehicles featured top-grade convertible appointments. This fixed-roof design gave off a very air-sweeping feeling without the drawback normally found with convertibles. From 1950 until 1958, besides the 1958 Bonneville, all Pontiac hardtops were named Catalina and were powered by a flathead straight-8 engine.

The second generation of the Catalina was unveiled in 1959 until 1960. In this year, Pontiac dropped the Chieftain name for its entry level model and renamed it Catalina. The former top-line Star Chief was demoted to mid-line status and expanded the Bonneville nameplate to a full flagship series. This series included coupes, sedans, convertibles and Safari station wagons.

Though the lowest-priced full-sized Pontiac, the Catalina was still quite a huge step up from the Impala in both interior trim and appointments, and only minor items kept it below the Buick LeSabre and Oldsmobile 88 in appointments and trim. But it was only priced between $100-200 less. Standard, the Catalina also came with a larger, more powerful V8 engine of 389 cubic inches, in comparison to Chevy's six-cylinder or 283 and 348 cubic-inch V8s. Pontiac's four-speed Hyrda-Matic was also much more impressive than the Chevy's two-speed Powerglide automatic transmission.

The base model wasn't that basic, as it was well equipped with some amenities as full carpeting, trunk and glovebox lights, cigar lighter, dual front ashtrays, glove compartment snack bar, heater/defroster and a choice of cloth and Morrokide vinyl upholstery or expanded Morrokide. Catalina owners could even purchase more trimmings by ordering the Décor Group. This added a deluxe steering wheel, full wheel covers, chrome pedal trim plates and much more.

The Ventura custom interior was offered on most Catalina models from 1962 until 1970. This included both the interior and exterior upgrades that were offered with the additional-cost décor group option plus a bit lusher interior of cloth or Morrokide.

In 1959 Pontiac restyled all of their cars, including Catalina on a new GM B-body that was shared by all GM divisions from Chevy to Cadillac and replaced the earlier A-body. With this new platform, the car utilized more glass for increased visibility and thin-pillar rooflines. Dubbed the 'bubbletop', the two-door hardtops were nicknamed this because of the thin c-pillared, pillared four-door sedans featured six-window styling while four-door hardtops featured flat-blade rooflines with an overhand past the rear window. All of the models retained the 122 inches wheelbase, but the overall length was 213.7 inches.

The 'split grille' was new on the scene in a unique new styling trademark for the '59 Pontiacs, and it easily set the Pontiac apart from any other car on the road for nearly 37 years until the smaller grilles began to resemble those of BMW. This trademark actually evolved by accident when the styling studios were exploring grille design.

While designing a conventional, full width, oval grill that held horizontal quad headlights, it was cut into two and the halves were transposed. With the new design, the body was made wider, had a wider chassis, and the wheels were moved further out by five inches almost to fender wheel. When Pontiac engineers pushed the wheels further out, this led to huge improvements in both ride and handling, which prompted the term 'Wide Track Tigers' which Pontiac used in their advertising for years to promote the Pontiac.

Basically a bored-out version of the 370 cubic-inch V8 that had been used in 1958 model Pontiacs, all Pontiacs were powered by various renditions of the new 389 cubic-inch Trophy V8, and based on the same Pontiac V8 design introduced in 1955. The Pontiac Catalina came standard with a 235 hp version of the 389 with two barrel carb and 8.5 to 1 compression jointed to the three-speed manual transmission. With the optional four-speed Hydramatic transmission, the standard engine was 283 hp version of the same engine higher 10.5 to 1 compression ratio.

Named the Economy V8, the 215-horsepower 389 was available as a no-cost option with the Hydramatic transmission with 8.6 to 1 compression ratio. This transmission burned cheaper regular gas, rather than the premium and super-premium fuels that were required for the high-compression engines, and was capable of achieving more than 20 MPG on the highway. For an extra cost, optionally available were higher-powered of the 389 V8 with four-barrel carb which was rated at 283 hp with stick shift or 303 with Hydramatic, or 'Tri-Power' options with three two-barrels cars and hp ratings of 318 and 330.

The Pontiac Catalina, along with other Pontiacs underwent a minor facelift for the 1960 year of the 1959 bodyshell with an all new full-width horizontal bar grille. This grille was very similar to the 1930's Cord replacing 1959's split grill and round taillights. For this year, the drivetrain and bodystyle of the Catalina remained the same, but new to the option list was a 'Sportable Transistor' radio that took the place of the regular in dash radio, or it could be removed and used as a portable with battery power. Also featured this year were the optional 'eight lug' aluminum wheels with integral brake drums that made the car look even better, but also provided improved stopping power. The 'Safe-T-Track' limited slip differential was another popular option for performance enthusiasts.

The third generation of the Catalina was debuted from 1961 until 1964. Pontiac downsized its midrange Catalina and Ventura for this year. For 1961, full-size Pontiacs were thoroughly restyled with more squared-off bodylines, the split grill from 1959 that had been dropped for '60, was re-introduced.

Also new for 1961 was an all-new Torque-Box perimeter frame with side rails that replaced the 'X' frame chassis that had been used since 1958. The 'X' design improved interior room, and the frame provided greater side-impact protection. Four-door models with the six-window styling featured a roofline that more squared off on pillared sedans and wider C-pillars with flat rear windows on four-door hardtops. The 'bubbletop' roof version was revised and used on two-door hardtops. Flatter glass work replaced the wrap-around windshields and great improved easy entry and exit to the front seat.

In comparison to the year before, the new body was somewhat smaller and lighter, and the wheelbase on the '61 model was down three inches to 119, and the overall length was reduced by the same to 210 inches. The width dropped nearly two inches to 78.2 from 80 inches, but despite the reduced length and width, the wider track in between the wheels was retained for outstanding ride and handling characteristics. Pontiac touted the 1961 version as 'All Pontiac... On a New Wide Track'.

The same as earlier years, all engines were once again 38 cubic-inch V8s. The standard engines on the Catalina were two-barrel units that were rated at 215 with the three-speed manual transmission or 267 with the optional Hydramatic, with a 230 hp regular-fuel economy V8 offered as a no-cost option with the Hydramatic. For a cost, more powerful versions were offered of the 389 including a 303 hp version with four-barrel carbs or 318 hp Tri-Power option with three two-barrel carbs. Also new to the option list were two higher performance versions of the 389 V8 that included a four-barrel 333 hp unit and a 348 hp Tri-Power option. Both of these options had a higher 10.75 to 1 compression ratio.

Replacing the earlier four-speed unit was a new three-speed Roto Hydramatic transmission for the 1961 year. This new transmission was much smaller and lighter than the previous old four-speed Hydramatic. The old transmission continued on in the larger Star Chief and Bonneville models. A four-speed manual transmission with Hurst floor shifter was all new for this year, and available on special order.

1962 and the Catalina rolled in with a bang, with an extensive facelift that added more rounded body contours and new rooflines on two-door hardtops that featured 'convertible-like' bows. Coupes and sedans received a one-inch wheelbase increase to 120, a wheelbase shared with full-sized Chevrolets.

Much was carried over to the 1962 year included engine and transmission offerings. The 389 cubic-inch Trophy V8 again ranging in power ratings from 215 hp to 348 hp. A few of the '62 Catalina's were constructed with a 'non-streetable' 421 cubic-inch Super Duty V8 with dual quads and 405 horsepower, along with a variety of performance options offered by Pontiac that included bumpers and even light frames with drilled holes.

Catalina's received the cleaner, squared-off bodylines for 1963 along with vertical headlights that were on either side of the split grille, but kept the same dimensions and basic bodyshell from previous models in 1961 through 1962.

The 333 and 238 hp versions of the 389 V8 were dropped in favor of production version of the larger 421 cubic-inch V8 that was rated at 338 hp with four-barrel carb, 353 with Tri-Power or an 'HO' version with Tri-Power rated at 370 hp so the engine offerings were revised. From the earlier part of the model year, the 405 hp 'Super Duty 421' was available to racing teams, before GM discontinued these and ordered Pontiac to discontinue factory-racing efforts in February 1963.

The 1963 Catalina had a few new options this year that included AM/FM radio, cruise control and a tilt steering wheel that was easily adjustable to six different positions. California hot-rodder Bill Straub converted a 1963 Catalina convertible and used it as a tow car in the NASA M2-F1 program.

The 1964 Catalina were rolled out with new grilles and new taillights. Though engine and transmission offering remained the same, a new GM-built Muncie four-speed manual replaced the Borg-Warner T-10 unit. A 2+2 option package was brand new on Catalina two-door hardtops and convertibles. The package included heavy-duty suspension, bucket seats and additional performance equipment and the same selection of 389 and 421 cubic-inch V8's already found in other Catalina's.

Falling close behind the first-place Chevrolet Impala and the second-place Ford Galaxie 500, the Catalina was often the industry's third best-selling full-sized vehicle throughout most of the 1960s. With great success in the low-medium priced field, the Catalina prompted much competition from other manufacturers. Chrysler introduced the 1961 Newport, which was a less-expensive Chrysler that was priced lower than base models. The Dodge Custom 880 and the 1963 Mercury Monterey were also both introduced as full-fledged low-medium priced full-sized cars in both size and power. These were unsuccessful efforts by Dodge and Mercury to bring out downsized full-sized vehicles.

The fourth generation of the Pontiac Catalina entered the scene in 1965 and ran until 1968. Full-sized Pontiacs were completely restyled with more flowing sheetmetal and featuring 'Coke-bottle' profiles and fastback rooflines on two-door hardtops. All models had an increased wheelbase of 121 inches.

The earlier Roto Hydramatic unit on found on full-sized Pontiacs was replaced with anew three-speed Turbo Hydramatic automatic transmission. Similar in its basic design to Chrysler's Torqueflite and Ford's Cruise-O-Matic transmission, the 'Turbo' was a three-speed torque converter unit. This made torque converter automatics the universal design for shiftless transmissions, and relegated the original fluid-coupling Hydramatic to the history book. Though it shared none of its design with the older outdated transmission, the 'Turbo' transmission continued to use the Hydramatic name. Replacing the 'P-N-D-S-L-R' pattern that had been long familiar to owners of Hydramatic-equipped Pontiacs, Oldsmobiles and Caddillacs, the Turbo Hydramatic also adopted the standardized 'P-R-N-D-S-L' shift pattern.

A number of revisions were made to the 389 and 421 cubic-inch V8s which included thinner wall block castings. Catalina models received the standard engine, the 389 two-barrel that was rated at 256 horsepower with base three-speed manual transmission and 8.6 to 1 compression or 290 horses with Turbo Hydramatic transmission and higher 10.5 to 1 compression. Also available as a no-cost option with Turbo Hydramatic was an economy regular-fuel 265 hp version of the 389 two-barrel with 8.6 to 1 compression ratio that burned regular gas. Other optional engines this year was a four-barrel 389 that was rated at 325 horsepower with Turbo Hydramatic or 333 with stick shift, a Tri-Power 389 rated at 338 horses, a four-barrel 421 that was rated at the same 338 hp, 353 horses with Tri-Power or the 421 HO with Tri-Power and 376 horsepower.

The 2+2 option transformed from a trim package to an all-out performance car package for 1965 which was similar to Pontiac's intermediate-sized GTO. The base engine with the 2+2 was now the 338 hp 421 four-barrel with the 353 hp Tri-Power or 376-hp 421 HO with Tri-Power available as options.

For the 1966 model year, full sized Pontiacs underwent a minor facelift that involved new grilles and taillight treatment. The inside of the Catalina was also revised along with interior trim. The 2+2 went from an option to full model status and engine and transmission offerings on all Catalina models stayed the same as 1965 except for the 338-horsepower 389 Tri-Power option being eliminated.

1967 was quite a bit year for the Pontiac Catalina as it; along with other full-sized Pontiacs received quite a substantial remodel of the 1965 bodyshell. An industry first, the windshield wipers were now concealed, and the bodyshell now featured a more rounded wasp-waisted body contours along with fuller fastback rooflines.

Brand new 400 and 428 cubic-inch V8's that wee built off the same Pontiac V8 design in use since 1955 replaced the 389 and 421 V8's of earlier years. Standard Catalina engines for 1967 was a two-barrel unit rated at 265 horsepower with three-speed manual transmission or 290 horsepower with Turbo Hydramatic. Available as a no-cost option with the Turbo Hydramatic was the 265 horsepower engine that differed from the standard 20 hp unit by utilizing regular gas instead of premium fuel. The optional engines this year included a four-barrel 400 that was rated at 325 horsepower, a four-barrel 428 that was rated at 360 horsepower or the four-barrel 428 HO that was rated at 376 hp. A new GM corporate policy was established in 1967 which prohibited the use of multiple carbs on all cars except the Chevy Corvette, so the Tri-Power engine options were dropped. Newly added to the options list this year were front disc brakes and stereo 8-track tape player.

For the final time in 1967, the 2+2 was available in both hardtop coupe and convertible. With 428 HO optional, the 360-horsepower 428 was standard. Unfortunately low sales since its debut in 1964 influenced the decision to drop this model. Performance car buyers also irrefutably preferred smaller and lighter intermediates, much like the GTO and the new Firebird ponycar.

The 1967 Catalina body was facelifted slightly for the 1968 model year which added a new beak-nose split grille along with a reverting back to horizontal headlights, and updated taillights. Engine offerings from the previous year remained similar, but with revised horsepower ratings including 340 for the four-barrel 400, 375 for the 428 four-barrel and 390 for the 428 HO.

1969 heralded the fifth generation of the Pontiac Catalina, which last until 1970. A major restyling occurred this year to all Pontiacs which included a major restyling with slightly squared off sheetmetal and rooflines. The vent windows were dropped on all models for this year, but the basic 1965 chassis, inner-body structure and four-door pillared sedan roofline remained and the Catalina received a one-inch wheelbase increase. Safari wagons received a new two-way tailgate that could be opened to the side like a door or downward like a tailgate for 1969.

A new option this year was variable-ratio power steering and when the power brake option was ordered, the front disc brakes were now automatically included. For this year, engine offerings were a standard 290-horsepower 400 two-barrel, or the no-cost optional regular-fuel 265-horsepower 400 with Turbo Hydramatic transmission, 330-horsepower 400 four-barrel, 370-hp 428 four-barrel or the 428 HO which was rated at 390 hp. Remaining as before, the standard three-speed manual transmission and optional three-speed Turbo Hydramatic continued on, but dropped from the option list was the four-speed manual with Hurst shifter.

For 1970, Catalina's, along with all full-sized Pontiacs received a new Grand Prix-like V-nose grille, along with 'horns ports' on an updated front end along with new taillights mounted into the rear bumper. Coupes and sedans now came standard with a smaller 255-horsepower 350 cubic-inch Pontiac V8 as standard equipment, while optional engines included the earlier standard 400 two-barrel rated at 265 and 290 horsepower, a 330-horsepower 400 four-barrel and two versions of the new 455 cubic-inch V8 which was rated at 360 horsepower, or with the HO option, 370.

In keeping with the previous years, a three-speed manual transmission with column shift was standard equipment, though most cars were equipped with the optional three-speed Turbo Hydramatic. Though it was not often ordered, also available this year was a two-speed automatic transmission, Turbo Hydramatic 300, available with the 350 V8.

1971 brought along with it the sixth generation of the Pontiac Catalina. Replaced with the Catalina Brougham, the mid-level Executive and Ventura trim option for the Catalina were both discontinued. The Brougham was a much more elegant version that featured a more luxurious trim than the regular Catalina. Unfortunately, despite high hopes, the Brougham's sales failed miserably to meet expectations and in 1973 it was dropped. 1972 was also the final year for the Catalina convertible.

From the wheels up, the Catalina (along with other full-sized Pontiac's) were completely redesigned and restyled for 1971. Somewhat similar to Chrysler's 1969 full-sized cars, the Catalina was restyled with long hood/short deck proportions and fuselage styling, along with a double shell roof to enhance roll-over protection and flush pull-up exterior door handles.

Both the Catalina and Catalina Brougham sedans and coupes rode on a 123-inch wheelbase. The Grand Ville and Bonneville utilized a longer 126-inch wheelbase, while the Safari wagons were at 127-inches. While sedans and coupes continued to be suspended with front and rear coil springs, the stations wagons also got their own multi-leaf spring rear suspensions.

The Catalina Brougham series made its debut to the Catalina lineup in 1971. This new series featured a more luxurious and plusher interior trim, and was available as a two-door hardtop, four-door hardtop, and four-door pillared sedan. Replacing the old Executive series, the 'Brougham' seemed to be similar in concept to the Ventura Custom trim option that had been available on most Catalina models since 1962.

For 1970 the Catalina Safari wagon dropped the 'Catalina' to be simply called the Pontiac Safari. It was continued to share interior and exterior trimmings with Catalina sedans and coupes nevertheless. The new Grand Safari wagon replaced the more luxurious Executive and Bonneville wagons. Though its interior trim was identical to the optional vinyl interior available on the Bonneville series, the Grand Safari shared its grill design with the new Grand Ville series. Along with Chevrolet, Oldsmobile and Buick, Pontiac now grouped its full-sized wagons as a separate series from their sedan counterparts.

Just like all GM B-Body wagons, both the Safari and Grand Safari received GM's all new clamshell tailgate. The tailgate slid into a recess under the cargo floor while the electric window slid upward into the rear roof section and was operated by switches on the instrument panel or a key switch found on the rear quarter panel. Pontiac bragged about how the new system made it so much easier to load and unload the wagon in tight spaces, but the truth was that the 'Glide-Away' tailgate was prone to both electrical and mechanical issues, along with water and air leakage problems over the years.

The new power ventilation system was yet another trouble-ridden problem Pontiac's shared with all GM B- and C-body cars in 1971. The system used the heater to pull air into the car from the cowl intake, and force it out through the vents in the trunk lid or tailgate, with the end result, hopefully being passengers enjoying fresh air even if the car was stopped, but this system didn't work. Just weeks after the 1971 was debuted, complaints were rampant from drivers who complained that the ventilations system pulled cold air into the car even before the heater could warm up, and it couldn't shut off. For 1972 the ventilation system was extensively revamped.

For the interior, all Catalina models featured all new Grand Prix-style wrap-around cockpit instrument panels that placed the controls and instruments all well within easy reaching distance of the driver. The cockpit also featured two round pods for a speedometer along with the other for warning lights, optional gauges, fuel gauge and electric clock. The trim inside was available in either cloth and Morrokide vinyl or expanded Morrokide, depending on model.

The standard engine in Catalina coupes and sedans was a 255-horsepower 350 V8 with two-barrel carburetor. Catalina Safari wagons and Brougham models came standard with a 400 cubic-inch V8 with two-barrel carburetor that was rated at 265 gross horsepower which was optional on other Catalina models. The optional engines included a 455 cubic-inch V8 with two- or four-barrel carburetion and respective hp ratings of 285 and 325 respectably. For 1971, all Pontiac engines were designed to run on lower-octane regular leaded, low lead or unleaded gas, due to a GM corporate edict, which necessitated reductions in compression ratios.

For the first time in 1971, power front disc brakes were made to be standard equipment. Much like in previous years, the variable ratio power steering and Turbo Hydramatic transmission were additional-cost options that became standard equipment midway through the 1971 model run. In addition to the standard column-shift three speed manual was the 350 engine with a two-speed automatic transmission available on early 1971 Catalina's.

Catalina, along with all of the other full-sized Pontiacs received new grand Prix-style 'V' nose grilles and even sturdier front bumpers that could withstand crashes of up to 5mph. This update was implemented even a year ahead of the Federal standard that took effect in 1973, along with revised taillight lenses.

Standard on all Catalina/Brougham/Safari models was the two-barrel 400 cubic-inch V8 that was rated at 175 net horsepower, in comparison to 265 gross horses in 1971, due a switch in power measurements from gross ratings. Optional engines for this year included a two-barrel 455 rated at 185 horsepower and a four-barrel 455 rated at 250 horsepower. 1972 was the final year for the Catalina convertible and the Catalina Brougham series.

For 1973 the Catalina, along with all of the other full-sized Pontiacs came with more full-width grilles, revised taillight lenses and the now-federally mandated 5 mph front bumper. Continuing in its 'wrap-around' theme, the instrument panel now had two round gauges housed in square pods. The regular Catalina models and Safari wagons were the only models offered this year, while the Catalina Brougham was discontinued. The Catalina now rode on a common 124-inch wheelbase for sedans and coupes, much like other full-sized Pontiacs including Bonnevilles and Grand Villes. Both Safari and Grand Safari wagons remained on their own 127-inch wheelbase.

For this year, Catalina sedans and coupes came standard with a 350 cubic-inch V8 that was rated at 150 hp with a 170-horsepower 400 two-barrel optional and was standard on Safari wagons. Optional engines were available in a 230-horsepower 400 four-barrel and 250-horsepower 455 four-barrel V8.

For 1974, a brand new 'Mercedes-like' center split grille along with revised rear styling was introduced. The new 5 mph bumpers were on the aft end, and the license place was moved above the bumper. The true pillar-less hardtop design were replaced with two-door hardtop couples that featured new fixed triangle side windows. Meanwhile, the four-door pillared and hardtop sedans remained basically unchanged from the previous year. The interior remained basically the same except for receiving a revised standard steering wheel and new cut-pile carpeting.

New options for 1974 included the adjustable accelerator and brake pedals, along with a Pontiac exclusive; though it was rarely ordered. Also new was a Radial Tuned Suspension that came with upgraded tires, along with other suspension modifications like front and rear sway bars. The standard engine on all models was the 170-horsepower 400 V8 with two-barrel carburetor, while a 225-horsepower 400 four-barrel and 250-horsepower 455 four-barrel V8 were available as options. Continuing to share the interior and exterior trims with sedans and coupes, the Safari wagon was renamed the Catalina Safari for 1974.

Updated front and rear styling took place for the 1975 Pontiac Catalina, along with other full-sized Pontiac. In addition, this year also brought new electronic ignition and standard radial tires. Carrying over were the same assortment of 400 and 455 engines from the previous year with reduced horsepower ratings that ranged from 170 to 200, but now joined to catalytic converters which drastically improved drive-ability and fuel economy over earlier emission control equipment, but mandated the use of unleaded gas.

The four-door pillared hardtop sedans featured new six-window styling with the sixth window on the hardtop sedan that functioned as an opera window. Pontiac ended convertible production in 1975 until 1982. The Grand Ville Brougham was also the final full-size Pontiac convertible.

1976 only brought along slight detail changes to the Catalina's and other full-sized Pontiacs. These changes included updated grilles and taillight lenses. The headlights on the Catalina were rectangular while the Custom Trim Option-round headlights remained on the base models. 1976 was also the final year for the 1971-vintage bodyshell, 455 V8, optional adjustable pedals and the clamshell tailgate on Safari wagons. The Bonneville Brougham series was brought back to the top of the full-size line. The Grand Ville name was abandoned completely.

The seventh generation of the Pontiac Catalina was rolled onto to the show floor in 1977 and ran until 1981. In an effort to lighten weight and improve gas mileage, Pontiac and other GM divisions downsized their full-sized cars in 1977. With a Buick-built 231 cubic-inch V6 now standard in sedans and coupes, the Catalina continued on as Pontiac's entry-level full-size automobile. Also ptional V8s of 301 CID, 350 CID and 400 CID displacement, each Pontiac-built engines, and were offered in all states except California.

In 1977 the Pontiac 350 was available, but it was replaced by Buick and Oldsmobile 350 V8s from 1978 until 1980. The Pontiac 400, offered through 1978 was replaced by an Oldsmobile 403 V8 in 1979 only. Optional for 1980 and 1981 was an Oldsmobile-built Diesel V8, along with another cut-down Pontiac V8 of 265 CID.

The Catalina Safari and the downsized 1977 model received a new two-way tailgate that could be opened to the side as a door or even lowered as a tailgate that replaced the earlier complicated 1971 until 1976 clamshell tailgate design. The wagons also shared the same full-coil spring suspension as their sedan counterparts, instead of the multi-leaf springs found on 1971 through 1976 Safaris.

Beginning in 1977, Pontiac V8s were banned from the State of California due to their inability to meet the Golden State's stringent emission control standards. Pontiac Catalina's sold in California were equipped with engines from other GM divisions through other GM divisions through 1981. These included the Buick 231 V6 and a variety of V8s including the Chevrolet 305, Oldsmobile 307, Buick and Oldsmobile 350s, and Oldsmobile 403 V8.

After the 1981 model year, the Catalina was discontinued. Also discontinued was the more luxurious Bonneville as Pontiac was attempting to abandon the full-sized car market as part of GM's continued downsizing program. The '82 Bonneville was introduced as a mid-size car. In 1981 the Catalina nameplate production ended after over 3.8 million Catalina's were sold since its introduction in 1959.